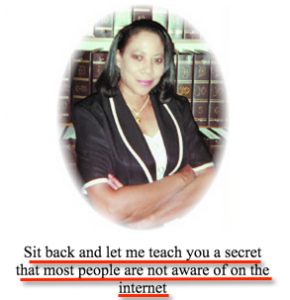 Price: 2,95 for a 7 day trial and then two payments of $49.5 = $99
Owner: Jean
Website: http://www.7daycashmoney.com
Verdict: Not recommended
7 Day Cash Money is the program that claims to be #1 home based business that has been around for seven years now. And not only that. It claims to be as such according to home based business magazine (Small business opportunities magazine). Jean claims that she's helped a lot of people to make a lot of money, from $3500 to $25.000 monthly.
These are really huge numbers but I think very exaggerated. I've seen many programs like this one that claim to be #1, that thanks to them many people started making 5,6 or 7 figures. But these claims in most cases are just empty words with no proofs. To reach those numbers isn't easy at all. It's not as easy as Jean claims it to be at least. Ok, let's look into the program to see if it's really worth your time and money and I'm going to be very honest and realistic.
The main idea behind 7 Day Cash Money
So, the main idea behind the program is simple. Jean claims that she will teach you how to make thousands of dollars each and every month with minimum efforts on your part. She will build 300 websites for you and you will be making money through Google adsense and Clickbank.


Pros of the program:
Step by step training
Free trial
Cons of the program:
Exaggerated earnings
Not as easy as you might be thinking
No active community where you can get help when you need it
No real support from the owner of the program
Your websites aren't going to rank well on Google
Done for you programs are mostly scams
It's not the proper way to build a real business
The program is by far not the best opportunity on the web
Inside the program:
Jean claims that she will build 300 websites for you and then you can join Google adsense program and make money. Once you join that program, Google will start rotating ads on your sites and each time someone clicks on those ads Google will pay you for the clicks. It sounds real but reality is a little different. Google adsense used to be a popular program a few years ago but not now.
Of course, you can make some decent money with that program BUT this is not about thousands of dollars Jean wants you to believe in. Please do me a favour and think just for a second, how many times you clicked on those links in the past when visiting other sites? I personally NEVER clicked simply because they are distracting.
And that's the main reason that most internet marketers don't put them on their sites. So, this way of making money is outdated and not so much rewarding. I know many successful internet marketers and even can't remember who does use this method for making money. And remember, you must have a lot of traffic to your sites before you can make few bucks with Google adsense because most of your visitors won't click on your ads.
Also, very often Google adsense accounts get banned without any further explanation. One of my e-friends, owner of a very successful website, very honest and helpful guy has been banned from Google adsense for 4 years now and he's still banned 🙂
And I forgot to mention that their payments are very tiny.
Jean claims that she will build 300 websites that will generate a lot of income for you. This is not true. Those websites will never get high rankings in search engines. If you're new to internet marketing you probably don't know what high rankings mean. That means getting your site listed on the first page of Google, Bing and Yahoo.
If you're on the first page, you will get a lot of free traffic to your site and that is the main factor to your success online. A lot of traffic = more sales = more money. And you should know that Google ranks only those sites that have an original, engaging content.
The sites Jean is going to build for you for around $100 are ones that don't have any original content and so they will never get ranked high in search engines. I hope you now understand what I'm talking about. But what does that mean for you? That means you won't have any good traffic to make enough money and what Jean promises you is simply far from reality.
Jean offers a free trial which is very good BUT if you're new to internet marketing you can hardly figure out how things should work within 7 days and so, that short trial period isn't enough to make any decision.
She claims that her system is very simple to follow and apply. Trust me, I'm an experienced internet marketer and can say that this is not true. All successful internet marketers that I know spent from 1 to 2 years on average before they started making serious money online. But be aware that you can achieve the same ONLY if you do things the proper way.
That's why it's really important where you start online. If you start at the wrong place it can take YEARS before you achieve success if at all. In most cases you won't. I really don't know any program that you can join and start making thousands of dollars with no efforts. I'm sure, Jean's promise is just another empty promise.
The method of building a business Jean tries to teach you isn't a real business model that works. It may work for some people at best. Real business is building a website, having a product, writing content for your product, getting it ranked on Google and gaining an authority within your niche over time which ultimately leads to highly profitable business.
Jean claims that 7 Day Cash Money program is the # 1 on the web and that this offer is for a limited time only. The programs has been around for almost 7 years now and it is still a limited time offer?? 🙂

The only thing that I like about the program is that Jean says that there is not such a thing as competition on the web and that there is enough business opportunities for everyone to succeed. That's true.

Support at 7 Day Cash Money
Support is an essential part of any program and your success depends on that a lot. When you start online, you're definitely going to get stuck at some point. I got stuck many times. And I really wonder how Jean is going to help you and many other customers, with each of them having a lot of questions? Can you imagine that? I cant't. I'm sure, you shouldn't expect any kind of real support with that program.
Final word on 7 Day Cash Money
My recommendation would be staying far from that program simply because I'm an experienced internet marketer enough and know how to spot scams or bad programs. This is definitely not the one I can recommend simply because there are many other quality and legit programs out there that produce great results while not making any false promises.
The best program I can honestly recommend you is Wealthy Affiliate. That is really # 1 program on the entire web that helped thousands of people to make thousands of dollars while not making any false promise to anyone. You can hardly find any negative reviews about this program on the web. You can read my review here and if you have any questions, leave your comments below or feel free to contact me and I will be more than happy to help you out.
About the Author: Adam
My name is Adam. I'm the founder of Your Income Advisor. My goal is to help others succeed online, by exposing scams and reviewing top rated products. I can help you start
your own business online